When my brother and I were little and playing in winter, we'd try to outrun the snow. Impossible! We'd get the inevitable tiny ice flakes on our noses. Then we'd stick out our tongues to taste them. Mom would call out, "Careful! Snowflakes follow cuteness!" In this pic, if the flakes aren't trying to follow me, they're definitely following the kitteh. Inside. Even. ;)
Swank's January round has begun! The theme is Feeling Frosty. Here, I'm sharing some delights from Skindustrial Bodyworks (aka SKBW), !!Firelight!!, Heartsdale Jewellery, and Ghostyss.
A few notes: personally, I am reluctant to stray far from skins I know. This is simply because it takes me awhile to "warm up" to avie face/body changes. It has to feel like me. If it doesn't immediately I kind of disassociate from my avatar and freak out. It's totally weird. I probably need counseling, or SHE does. (pointing) But anyhoo! I tried SKBW's Emily skin for Lelutka. On my Lelutka head which I haven't been wearing often with the update. Recipe for a freak-out, right? Well...I like it, I like it! I seriously want to know what you think too.
My hair is by !!Firelight!! called Candie. She certainly IS as delightful as candy, and considering, this is definitely my favorite !!Firelight!! hair. Each texture hud has two Effects - Rich/Full or Wispy. Try both, they do create different moods. Here I chose the Rich/Full on the Blonde Hud.
Rounding off my outfit, I'm wearing lovely jewelry by Heartsdale Jewellery, and my dress is by Ghostyss. The jewelry set named Milano has what I consider a modern style that will pair well with all sorts of outfits. I will be adding them with other jewelry in the future as well. Ghostyss' dress, Capucine, is a lovely little concoction of lace, color inset, and woohoo, backless. ;)
The kitteh is by Black Bantam now at the

N°21 event. MY kitteh. MINE!
CREDITS:
Skindustrial Bodyworks (SKBW) - Emily Skin Applier (Dulce Tone)
For LELUTKA
w/Maitreya, Belleza, Omega Body Appliers
Shape Option, Brows Included
!!Firelight!!
-
Candie Hair -
Rigged Mesh
Multi-Fits & Texture Options
Heartsdale Jewellery
-
Milano Jewelry Set
Necklace, Earrings, Bracelets, Rings w/Texture Hud
Ghostyss - Capucine Dress
Multi Fits, Texture Hud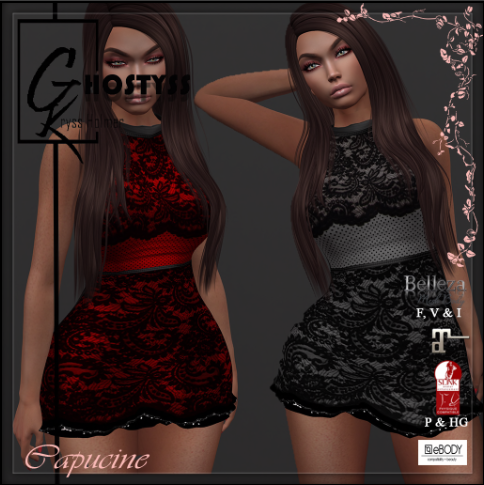 _____________________________
___________________________
@
N°21
until January 12th
RAMA
- #selfie_RAMA Private School