The strains of beautiful, sexy fashion were calling to me. I listened; my NANTRA pose making it possible. This particular pose is included in a set called Cuz I Can, currently available at The Liaison Collaborative. NANTRA poses have a style of their own, very realistic and sexy, from the top of our tilted heads to our individually posed fingers, to our perfectly turned ankles.
Vanity Hair is at Salon52 (formerly Hairology). This is Venezia, tres avant garde! But I can also easily imagine her on a lady in a toga. Let's just say, she's got high fashion attitude in an updo with a riot of curls. That about covers it.
Cherry Bloom has released another scintillating outfit called Melina. It consists of a top, skirt and an optional modesty panty included as shown below. Texture changes to multiple parts make this sexy little number wearable over and over with different looks. Melina is for Maitreya gals.
Below are my little paperdolls, as I call them, for more of a look at Leven Ink's Sphynx Tattoo. I'm wearing the appliers at 50% strength for a more "aged" look to the ink. This tattoo is a perfect example of why tattoos are often called Body Art, adding intriguing artwork all over our bodies! And btw! Thanks so much to my friends and viewers who have told me they like my paperdolls. Your comments are so appreciated. xoxoxo
Happy Shopping!
___________________________
Original Mesh Design, Texture Hud
___________________________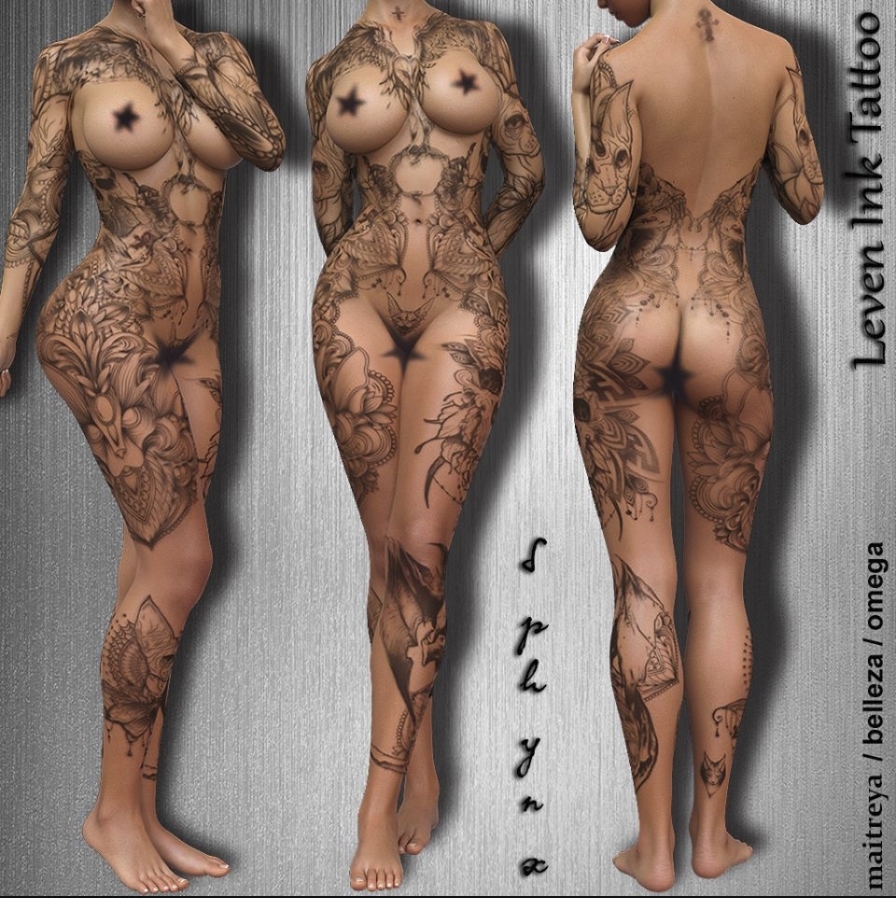 ___________________________
*Spicy* Bodyshop - Willow (Genus)
___________________________
Izzie's
-
Oceania Eyeshadow
(Genus)
___________________________
___________________________