While planning this post for MadPea's Pet Friends Fair, I began building my barn scene with the use of some items already in my skybox, namely the barn and cows. When I rezzed the Teegle interactive trough, I slid it under one of the cows and had a giggle at how fun it looked. (And since I blogged Teegle, I went to the store and bought one of the wonderful horses!) I used Noble Creations' Sea Turtle Planters (why? Because sea turtle planters are cute and necessary anywhere). I planned my outfit with more cute items available at the Fair (heels? yes, it's Second Life, whut), and decided I wanted to use one of Image Essential's Crazy Cat Lady poses (why? because I AM one). Then I started working with MadPea's Happy Hooves Gacha - omg, it has a barn and more! But, but, my cow is enjoying the trough so I kept it sans the other barn - which is majorly cool, if I have time I want to do another post showing the whole set.
Happy shopping!
CREDITS:
MIDNA - Camila Tank Top Green
[Teegle] -
Interactive Buckets and Troughs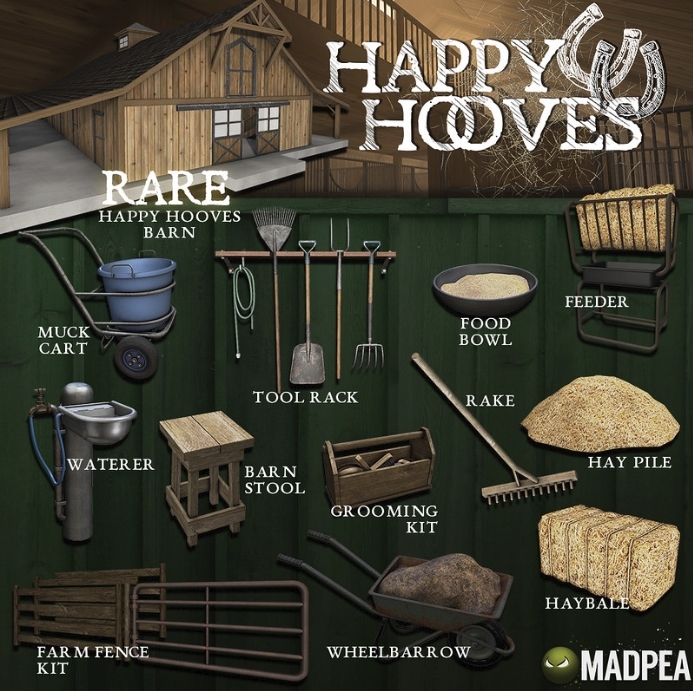 ______________
_____________
___________________________
[Teegle] - "Maestro" the Hanoverian Horse
Note! Available In-Store. Cats original mesh. 75Ls per pull.
New! Special box under each Gacha that gives out one as a Group Gift!
___________________________
___________________________
*YS&YS*
- Maria Applier/Skin (Genus) - Tone 03