Young, innocent, with her whole life ahead of her. The world is indeed her oyster! Before I launch into a skin review, let me point out my pretty Johanna hair by EscalateD. It's at this round of We <3 Role-Play. Packs include a mirror version and chains with their own texture hud. Streak options are really fun to play with! See more info in credits below. I'm also wearing the Fiorela dress by Cherry Bloom, now at Cosmopolitan but hurry! This sweet little number is oh, just one of those have-to-have's...with separate matching panties. The texture hud is brimming with color selections - make the ruffle match or not.
On to the skin section! A lovely offering at the Skin Fair 2019 is from SPIRIT Skins. This is Leila for Genus, worn on the Baby head. I am also using Spirit's Leila shape and brow. In my main pic above I'm wearing Tone #09. Below is a collage of Tones 00, 01, 02, 09 and 11. There is an original brow or no-brow tone option on the applier huds. Spirit's Tender body apps match perfectly, and there is also a cleavage add-on. Those following my blog are aware I often experience an identity crisis messing with shapes. I didn't experience that with Spirit's shape because she's really quite a lovely young lady. She's versatile enough to be used for very young avatars, or add a bit of makeup for maturity. Lolita? Sure. She is fresh faced with a budding awareness of life.
I am also wearing Avi-Glam's Daydreamer Eyes found at the Skin Fair. Simply put, gosh they're yummy. Pop up into ultra-graphics and experience the beautiful shine. They need to come home with you too!
Happy shopping!
CREDITS:
SPIRIT Skins
- Leila [Genus]
Wearing Tone #09 Main Pic, w/Leila Shape & Brow
Avi-Glam
- Daydreamer Eyes (Genus)
Using a selection from Pack 3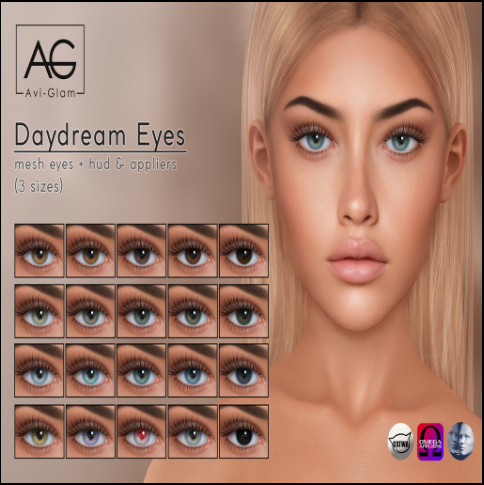 ********************
Skin Fair 2019
Presented by: Pale Girl Productions & LAQ owned by Mallory Cowen
March 8th (12:00 PM SLT) through 24th
Wearing V1, w/Essentials Hud
25% off exclusive to the Event + Special offer MiniHUDs 50Ls each
___________________________
Original Mesh Design, Generous Texture Hud
___________________________
Izzie's
-
Baby Hairs Hairbase LAQ-Omega